This SuperTag provides top-of-the-line theft protection for everything from heavy outerwear to delicate intimate garments. The sleek shape provides a strong visual deterrent without detracting from high end merchandise, letting retailers open merchandise with confidence.
Retailer Values
SuperTag, the gold standard in asset protection, features a patented clamp design for superior defeat resistance
Sleek, aesthetic design helps minimize impact to merchandise on display
Promotes open merchandising for increased sales
Solution Application
Apparel, General Merchandise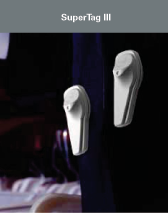 Product Codes
Tag (Black): ZL303-B
Tack (Black): MJ200-B
Tag (Gray): ZL303-G
Tack (Gray): MJ200-G
Product Compatibility
MJ200L-W: Long Tack
ST13564: Flat Metal Tack
MJVT-2: Versa Tack
MXSTL: Lanyard-21cm (8.27in)
MXGL: Lanyard-19cm (7.5in)
MJ200-G: Tack
MJ200-B: Tack
MJVT-3: Versa Tack
MJVT-4: Versa Tack
MXVT15: Versatie
Detachers
SuperTag Detacher
SuperTag Manual Handheld Detacher
Detacher Type
SuperTag
Environmental Constraints
Temperature
Maximum storage temperature not to exceed 60°C (140°F) for 96 hours at
80% RH.
Humidity
Unaffected by 80% humidity at 60°C (140°F), up to 96 hours.
Specifications
Color: Gray, Black
Length: 69.0mm (2.72in)
Width: 30.5mm (1.20in)
Depth: 18.8mm (0.74in)
Weight: 9.7g (0.32oz)
Pullout Force: 63.50kg (140lbs)