Loss Prevention Systems, Inc is a Sensormatic Dealer with nationwide coverage. We can specify, sell and install your brand new Sensormatic system. Sensormatic Electronic Article Surveillance (EAS) systems work on Acousto Magnetic (AM) technology. AM has proven time and again to be a far superior technology in detection range, pick rate, direct label application to metal and has significantly less false alarms. As a Sensormatic Dealer, Loss Prevention Systems has the right skills to specify the correct system for your stores' needs and budget.

Sensormatic equipment is not your run of the mill bargain equipment. It is serious commercial grade EAS equipment designed to solve even the most challenging EAS problems. Sensormatic costs a little bit more but you certainly get what you pay for, the best! Don't believe? 80% of the top 200 retailers in the world do and they depend on Sensormatic to get the job done.
Loss Prevention Experience
But MORE IMPORANTLY Loss Prevention Systems has the knowledge of loss prevention to help you fix your shoplifting problem. We are Loss Prevention Professionals who have actually fixed shoplifting problems for thousands of retail stores. We didn't just read it in a book (Our president actually wrote the book on it, called "Protect Your Store! The Shoplifting Prevention Guide for Small to Medium Retailers" available on Amazon) and we aren't just a product salesman. We have been there, done that and got the t-shirt. Ask another EAS representative how many shoplifters they have personally apprehended? Have they ever steered a Retail LP program from the Executive level? WE HAVE!
Free Shoplifting Prevention Training by a Sensormatic Dealer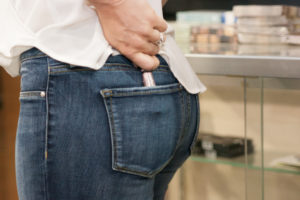 Once your Sensormatic system is installed, Loss Prevention Systems, Inc. (LPSI) does not stop there. In fact, we are just starting. We are the Sensormatic Dealer who also will train your employees how to utilize the system and even more, we will train you to identify and discourage shoplifters using the Sensormatic system to support those efforts. And we will keep training you as often as you reasonably need. Staff changes, promotions, new hires, we will help you maintain your level of awareness where it should be.
We will also guide you in setting up your overall shoplifting prevention program with direction, policy and procedure and more. What another company will not tell you is that any EAS solution is not the complete solution to your shoplifting problems even if you are a single store operation. You have to have a sustained program otherwise you will be back in the same place you are now in six months, system or no system. That's where LPSI comes in. We help you with a sustained shoplifting prevention effort!
Contact Loss Prevention Systems, Inc., your nationwide Sensormatic Dealer, today at 1-770-426-0547 to discuss your needs and let's make shoplifters go away!