Grocery store profit margins are tight to start with but then add on shoplifters stealing your merchandise. Small to medium sized retailers do not have the payroll to staff security personnel. What do you do? A well-established solution is a Checkpoint System. Unlike a camera system that you do not have the payroll to watch live, a Checkpoint System is always on guard.
Checkpoint Systems are proactive 24 hour a day, 7 days a week. They do not take a break or look away.
Couple this with the largest variety of paper thin labels to put on your merchandise and you have solved the problem!
Need more? Add Alpha High Theft Solution devices to the mix and you create a barrier that is transparent to your good customer but the thief will take notice. Alpha products protect cigarettes, baby formula, general merchandise, expensive laundry detergents and much more.
How about meat? Checkpoint is the only company with food grade labels. These labels have extensive R & D behind them: they are rated for contact with fresh foods. And they can go into a microwave without catching on or causing a fire. This is a liability you don't want.
Still need more? Loss Prevention Systems will provide you with live on-line training in the prevention of shoplifting. You and your staff can benefit from decades of our experience in loss prevention. We teach you how to prevent the shoplifting with the support of your Checkpoint System.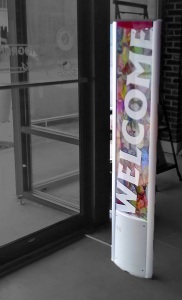 Well there is still more. Many of our Checkpoint Systems have built in AD Panels. This allows you to promote an item, sale, special or simply say "welcome" when your customer walks in your door. All of this without taking up any more floor space.
It's time to act! Stop losing profits now. Contact us today with your questions and let Loss Prevention Systems guide you to higher profits.