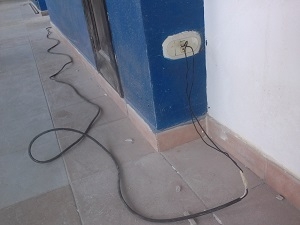 On a recent trip to Mexico my wife and I stayed at a very nice resort. At that time there was some remodeling going on in one area. Being my Father's son I could not resist watching the progress from day to day. The craftsmanship was great to see. However, the safety standards for both the employees and customers left much to be desired.
Take for example this photo I took of a construction worker's"extension cord", "plugged in"  to a wall outlet (stripped wire ends pushed into the plug openings). This cord ran to a heavy duty table saw. Besides the fact that this cord could not deliver enough electricity to properly run the saw was the dangerous condition it created for electric shock and fire.
We have a standard of living we take for granted. This includes our commercial infrastructure. That level comes with a price. I see parallels every week that apply to shoplifting prevention systems like the Checkpoint Systems my company sells. Retailers tell me that they have purchased a used Checkpoint system and installed it themselves. There are several issues with that.
First, what condition is the equipment in? Checkpoint Systems are commercial grade equipment that is installed by professional factory technicians.  The fact that it is used probably means that it's life spam is over and was replaced. On top of that it was most likely on someones garage floor up to the time you bought it. What abuse was it subjected to?
Second, genuine Checkpoint equipment can ONLY be installed properly by a trained factory technician, regardless of what any one tries to tell you. Do not believe that you can be on your knees with a screwdriver making adjustments and that you will be happy and get the performance the system was designed for. To achieve that, you need a sophisticated software program for the newer systems or an oscilloscope for the older ones. You see, it is not just about the system but the electronic environment it is placed in. Only a Checkpoint technician can make those adjustments.
Lastly, and to my concerns about safety. Hooking up this equipment on your own is wrought with safety considerations for you, your employees and your customers. Wiring must be run in a specific manner, connections must be made properly and so on.
These reasons alone warrant doing it right. Remember,  you want this equipment to prevent losses not to cause you even more. That is why Loss Prevention Systems only sells and installs new Checkpoint Systems. You want the best! Buy it from a company that sells and installs the best. Contact Loss Prevention Systems today.  We can help you stop your shoplifting problems.