Alpha High Theft Solutions Product Profile – Atlas
Name: Atlas Manufacturer: Alpha High Theft Solutions Retail Merchandise Application: Display electronics, cameras, smart phones, tablets… Details:
Atlas™ is the newest member of our Display Solutions family. Atlas by Alpha is a low-profile, sleek stand that secures your high-theft electronics and increases your sales by allowing shoppers to fully experience and handle the merchandise. Atlas is a fully self-contained system above the counter, it fits almost anywhere, and will integrate easily with your current fixtures. Choose from either white or black stands depending on the appearance you want. Designed to display tablets, mobile phones, cameras, GPS devices and more, the system not only provides power to merchandise, it provides maximum security through multiple trigger points. An internal alarm and flashing LED indicate if the merchandise is tampered with and a back-up battery maintains constant security even if power is lost or power supply is interrupted.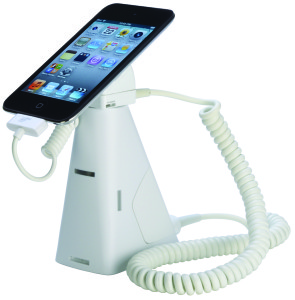 Installation is simple. Adhesive on the base mounts securely to any flat surface without drilling any holes providing an instant security option for your high-risk merchandise.  The programmable security key will arm or disarm the system and up to 20 keys can be programmed for each stand. All of our Alpha Display Solutions are backed by a global service and support network and complement our full line of S3 security solutions. For more information on Atlas, or any of our other Display Solutions, contact us or call 1-770-426-0547